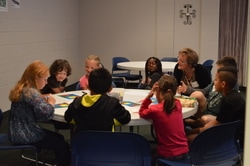 3rd-4th class

Safety - Upon your arrival to kid's Church, we ask parents to sign their child in for safety and attendance reasons.

Class - This class is a combined boys and girls class. Foundational lessons of faith are taught with object lessons, activities and games. More emphasis is put on life application through prayer, discussions and relational ministry.

Learning Needs - If your child has any special learning needs, We'll try our best to accommodate them.