Hospitality Ministry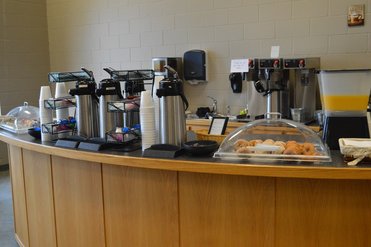 The Discover Church hospitality teams reach out to all of the members and visitors that come to worship and fellowship at Discover Church. Perhaps you had a doughnut and some coffee on Sunday morning. Maybe you were greeted at the door or brought on a tour around the building. Perhaps you were giving a prayer card and a bag with cookies and brochures. Maybe you received communion during a service. Perhaps you were ushered to a seat and introduced to a new friend. Hospitality volunteers made all of these things possible. The hospitality team members are far more than "kitchen help". Hospitality volunteers have the chance to reach out to others through some of the most basic needs – food, drink and fellowship with others.
Welcome Team
Communion Team
Refreshment Team
Ushers
Greeters & Welcome Desk
We are always looking for more people to commit to being a part of this important ministry. We have several openings on all teams as well as a need for people willing to be substitutes. If you are looking for a place to get plugged in and help out, please pray about how you can be a part of the team, may all that we do show his love to those among us. The Lord has called us to practice hospitality. He desires for us to offer welcome to our neighbors and to those we don't know yet! What can God do through you? Amazing things!
For more information on any Hospitality Ministry please contact
Jessica Kuhn
, at 763-561-5877.
---